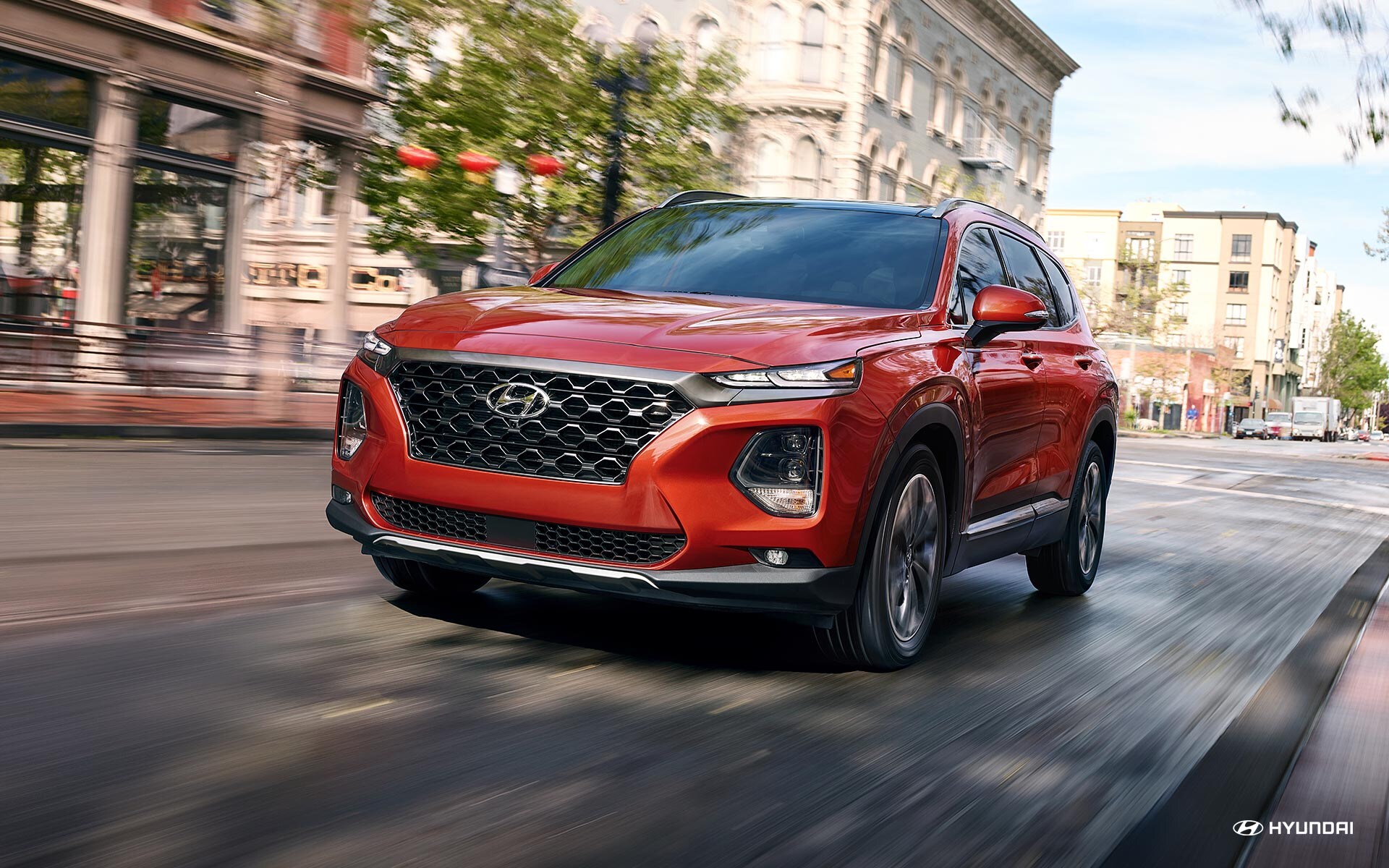 The Hyundai Santa Fe comes in at just over $25,000 base for the model year, offering a variety of engine options and a more powerful optional eight-speed transmission that delivers more than the Highlander and other models in its class. Plus, like all vehicles from the brand, the Santa Fe includes more standard safety features along with some features that just aren't available on other models in this class. The safety ratings are also higher than brands like Toyota and VW, but Honda still holds their own. The Hyundai Santa Fe includes plenty of infotainment and cabin space for drivers and passengers, with cargo room that is ample enough to get the job done. Let's take a look at how the Santa Fe compares to its competition.
Toyota Highlander
The Toyota Highlander has base models starting around $32,000, which is about the same as many vehicles in the class. The infotainment features and interior space are less than what comes standard on the Santa Fe, but it does have a variety of drivetrain options and a track record of safety and performance that comes with the Toyota name. The Highlander also includes an optional V6 engine, with a more stylish exterior and evolved interior than models like the Pathfinder, but Hyundai still delivers when it comes to best value pricing and standard tech and infotainment features.
Honda CR-V
The Honda CR-V offers Honda's standard safety suite and fuel economy that is best in class. It is hard to compete with this brand, but Hyundai has been doing it successfully for years. The CR-V is much closer in terms of base pricing, and actually a little cheaper than the Santa Fe. It offers a Continuously Variable Transmission and seating for up to five passengers, which is the same as the Santa Fe. Like most models, the debate between Hyundai and Honda usually comes down to driver preference, but those who aren't dedicated Honda drivers are starting to look to Hyundai for better standard features and stylish design.
Nissan Pathfinder
The Nissan Pathfinder is on the higher end with base pricing, and it doesn't offer as many engine performance options or the reliability that comes with the Hyundai and Honda safety ratings and driver-assist safety features that come standard on most models. Nissan does include some standard safety, but it doesn't get the fuel economy of the Santa Fe and it has limited infotainment built into the base models. There are plenty of potential things to love, but when you put them side-by-side, the Santa Fe just offers more for the money with a base up to $5,000 less than the competition.
VW Atlas
The Atlas is another model that is on the high end of the price range for this class, offering an MSRP closer to $30,000 with the same 8-speed transmission as the Santa Fe and capacity for up to seven people, instead of the Santa Fe's seating for five passengers. The fuel economy is comparable and both models offer front-wheel drive standard, but again VW is lacking when it comes to safety features on standard base models. Things like Lane Keep Assist aren't even available on the model, but it still fares better in safety ratings than many other competitors of the Santa Fe. For reliability from the VW name, the Atlas delivers. Beyond that, it's about what you're willing to spend because Santa Fe just has such low base pricing that it's hard to compete.
Hyundai Santa Fe is the Winner in Its Class
When shopping for a compact sport utility vehicle, choices abound. The overall winner in this class is Hyundai Santa Fe. With its affordable price, greater number of standard safety features, comfort and cargo room, this is the SUV you'll want to buy. Stop in for a test drive - you'll be glad you did!