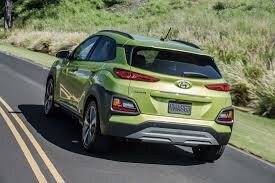 The Hyundai Kona is a leader in its class, for a number of reasons. It offers a 60,000 mile (5-year) warranty that includes 24/7 roadside assistance. It also includes a driver alert monitor and plenty of other safety features, which Hyundai is known for in its vehicles. There is an additional powertrain warranty, and this car features a standard 1.6 turbo engine that actually offers more power than the Outback and many other vehicles. The Kona is a great economy car, offering mileage of 26 mpg city and 29 mpg highway, competing with some of the best vehicles in its class. The Kona also has better stopping power and plenty of standard airbags, along with a full infotainment system and a standard heads-up display for drivers. Let's look at the Kona's competition and see how the Kona wins when it comes to safety, reliability, and performance.
Kia Sportage
The Kia Sportage costs more than the Kona; coming in at about $4,000 more for the base model. However, it does offer a more powerful engine - but that's going to cost a little fuel economy when compared to the Kona. They both offer plenty of cargo and passenger space, with seating for up to five. However, like most compact SUVs, it's really only going to hold four adults comfortably. Kia has some standard safety features built-in, but for the most part, their base models are just that-- basic.
Honda CR-V
The Honda CR-V offers a higher starting price than most in its class, coming in just under $25,000. It also has a Continuously Variable Transmission and gets an estimated 32 mpg highway, which is fairly close to what the Kona offers. Honda Sense comes standard on newer models for driver-assist and safety features, including things like blind-spot monitoring and lane-keep assist. Honda has been a leader in safety and fuel economy for years, but the Kona offers a little more tech and style on standard base models.
Nissan Kicks
The Kicks doesn't have as much cargo space as Honda or Kia, but the day-to-day cargo space seems to get the job done. As far as performance goes, the Kicks doesn't offer all-wheel drive and has a small base engine comparatively. Those who are looking for fuel economy (33 mpg combined) will find it here. If you want performance and power, the Hyundai Kona offers a turbocharged engine.
Subaru Outback
The Subaru Outback is only available in all-wheel drive, which may be prohibitive for those drivers who don't need the four-wheel capability and who want a car with slightly better gas mileage. It still fares well for its class, coming in about 5 mpg less than the Kona. Subaru also has fewer tech upgrades and bells and whistles than the Kona on standard models, without a lot of options for adding features on different trims. Kona, on the other hand, has a model for everyone.
VW Golf
The VW Golf is always a competitor, simply because it's from a leading brand like VW. It offers more stable handling with a larger wheelbase and better weight distribution than the Kona, but the Kona has much better pricing, as usual. The Golf includes plenty of standard safety and is an IIHS top safety pick. The Golf does have better fuel economy and range, and it comes with an optional 8-speed transmission for those who want more power.
When you review all of the categories in our comparison, it's hard to pick against Hyundai Kona. With Hyundai's extensive warranties, plus the Kona's powerful standard engine, affordable price, good gas mileage and excellent tech, it's no wonder this vehicle is a top choice in its class. Take a test drive today and we're sure you'll like this compact SUV!