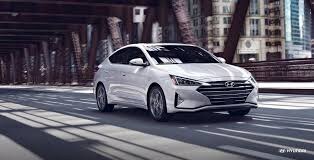 The Hyundai Elantra is a compact sedan that offers some of the best base pricing in its class. There are multiple trim levels available and plenty of engine options, along with Hyundai's standard Safety Sense system, which offers a full suite of safety and driver-assist features. The Elantra is full of tech features and infotainment, too, making it a best-in-class choice for drivers who want more for their money. The Elantra offers standard SiriusXM and keyless entry, along with other features that most models include as options. Performance is strong and the Hyundai warranty program is comparable to others in the market. Let's see how the Hyundai Elantra stacks up versus its competition.
Honda Civic
The Honda Civic is a car that has a history in the compact class. It comes with features like Honda Sensing technology for safety and driver assistance features. The Civic offers better fuel economy with its automatic transmission models, while the base model features a standard manual transmission. Elantra doesn't have this option. As usual, Honda comes with higher pricing for base models, while Hyundai packs in the features at a lower MSRP. Standard features are similar on base models and safety ratings are slightly higher in the Civic, but the two are fairly comparable. Ultimately, it will come down to a name game for a lot of drivers.
Toyota Corolla
The Toyota Corolla comes at a higher MSRP and with fewer standard safety features, but Toyota Safety Sense is included. Their fuel economy is similar, but the Elantra definitely has more to offer when it comes to power and performance. The Corolla offers optional tech and infotainment upgrades, as well as an optional upgrade to premium features like remote keyless entry and more. While the Toyota family is known for economical, efficient cars that will stand the test of time, the Hyundai family just offers more in terms of standard features on their base models.
Kia Forte
The Kia Forte has decided to up its game with performance trims for the newer model years, offering a continuously variable transmission as Honda has in many of its vehicles. Because of this, it gets better fuel mileage than the Eco version of the Elantra. but is right on par with standard models. It also has many of the same basic style and performance features, but infotainment and tech come at a premium. Kia is lower in the price range for compact vehicles, but the base models just don't have as many standard features. Ultimately, the Hyundai Elantra seems to be the better option for people who want to hit the road without as many choices.
The Bottom Line
While the competition is strong, the Hyundai family continues to intrigue drivers and improve their vehicles with standard safety features that outmatch most in its class, along with reliable performance and styling that stands the test of time. The Civic and others have their place and are probably going to get the job done well enough, but for all-around safety, performance, and reliability, the Hyundai Elantra just gets the job done for less.